NON-PROFIT AND COMMUNITY RESOURCES
Project Forgive is a non-religious and non-partisan global movement that started as a short video created by Dr. Shawne Duperon that garnered the attention of tens of thousands across the globe. The goal was to initiate a conversation on forgiveness to heal conflict. No politics, no religion, just an authentic inquiry of what forgiveness means to people across the globe and how to strategically create communication that embraces critical thinking skills while powerfully addressing conflict.
Since then, Project Forgive has been officially endorsed by Archbishop Desmond Tutu and has grown to reach millions of people each month in social media.
We were also honored with a 2016 Nobel Peace Prize nomination for our progressive and authentic conversations, particularly with our leadership tool "Accept The Apology You'll Never Receive".
The mission of Project Forgive is three-fold:
1) Increasing diversity, equity and inclusion in the workplace;
2) Providing high-level leadership skills particularly for women
3) Supporting, retaining and training our cherished teachers.

HELPS International seeks to alleviate poverty by providing programs in healthcare, education, economic development, and products that are designed to "liberate" the home. HELPS' programs are integrated into rural villages in Latin America to positively impact the indigenous population's quality of life. HELPS' approach to poverty reduction not only provides immediate relief but secures a brighter future for generations to come.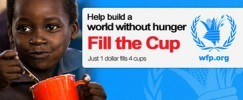 The United Nations World Food Programme (WFP) is the world's largest humanitarian agency fighting hunger worldwide and is voluntarily funded. In emergencies the organization delivers food to where it is needed, saving the lives of victims of war, civil conflict and natural disasters. After the cause of an emergency has passed, they use food to help communities rebuild their shattered lives.
Established in 1961, WFP pursues a vision of the world in which every man, woman and child has access at all times to the food needed for an active and healthy life.

Executives In Action (EIA) is a nonprofit organization that leverages the talent and expertise of executives in transition, engaging them to serve as pro bono consultants to improve charitable organizations' productivity, efficiency, and impact.

W.I.N. is an international women's leadership organization inspiring women worldwide. With its leading-edge approach, W.I.N. has become the reference for modern women working internationally, conscious men and world-class organizations active in the field of women's leadership development and diversity & inclusion.
The YWCA National Capital Area is dedicated to eliminating racism, empowering women and promoting peace, justice, freedom and dignity for all. We offer programs that challenge women and girls to take charge of their health, economic stability, and overall well-being. Throughout the metropolitan Washington area, our mission is to encourage women to recognize and realize their individual aspirations.
The YWCA NCA offers education and training in adult literacy and workforce readiness; youth development initiatives that target adolescent girls, through mentoring and academic support and social skills building; and, our children's center in northern Virginia nurtures children from ages 6 weeks to 5 years. We promote healthy lifestyles through health and wellness classes at our downtown DC headquarters and in communities throughout the metropolitan Washington area. The core of our work – and the reason we were founded – is to empower every woman and to promote social justice and advocacy. It's about breaking barriers that impede women in realizing their full potential. www.ywcanca.org